The Rugged Road By David Roper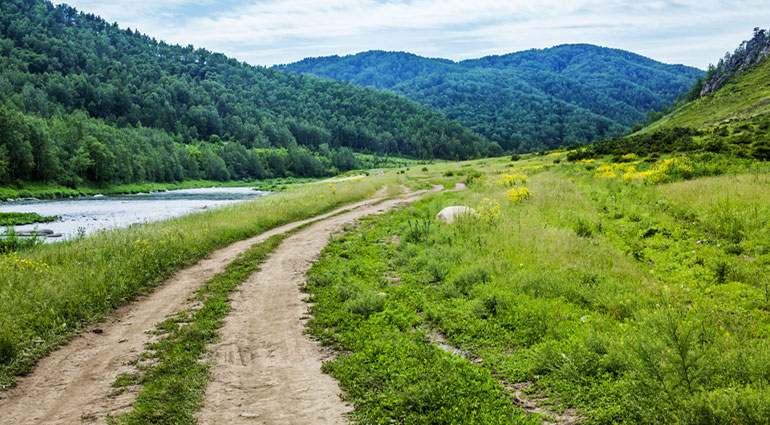 Read: Psalm 25:4-11
Ask where the good way is, and walk in it, and you will find rest for your souls. Jeremiah 6:16
A fishing buddy of mine told me about an alpine lake located high on the north flank of Jughandle Mountain here in Idaho. Rumor had it that large cutthroat trout lurked up there. My friend got a pencil and scrap of napkin and drew a map for me. Several weeks later I gassed up my truck and set out to follow his directions.
His map put me on one of the worst roads I've ever driven! It was an old logging road that had been bulldozed through the forest and never regraded. Washouts, fallen timber, deep ruts, and large rocks battered my spine and bent the undercarriage of my truck. It took half a morning to reach my destination, and when I finally arrived I asked myself, "Why would a friend send me up a road like this?"
But the lake was magnificent and the fish were indeed large and scrappy! My friend had put me on the right road—one I would have chosen myself and patiently endured had I known what I knew at the end.
There is a faithful saying: "All the ways of the Lord are loving and faithful toward those who keep the demands of his covenant" (Ps. 25:10). Some of God's paths for us are rough and rugged, others tedious and boring, but all are filled with His love and faithfulness. When we come to the end of our journey and know what we then will know, we will say, "God's path was best for me."
Father, we don't see the end of the road, but You do. We trust You for what we can't see. We know that You are bringing us through it.
Our path may have obstacles, but God will lead us.
Insight:
In verse 8 of today's reading, David describes the Lord as good and upright. What God's character causes Him to do, however, is quite surprising. Rather than His holiness leading Him away from us—who are sinful and far from holy—His mercy leads Him to instruct us in His ways. Because we know God is good, we can trust Him. J.R. Hudberg
.........................
Psalm 25:4-11 King James Version (KJV)
4 Shew me thy ways, O Lord; teach me thy paths.
5 Lead me in thy truth, and teach me: for thou art the God of my salvation; on thee do I wait all the day.
6 Remember, O Lord, thy tender mercies and thy loving kindnesses; for they have been ever of old.
7 Remember not the sins of my youth, nor my transgressions: according to thy mercy remember thou me for thy goodness' sake, O Lord.
8 Good and upright is the Lord: therefore will he teach sinners in the way.
9 The meek will he guide in judgment: and the meek will he teach his way.
10 All the paths of the Lord are mercy and truth unto such as keep his covenant and his testimonies.
11 For thy name's sake, O Lord, pardon mine iniquity; for it is great.