Love Comes First By Cindy Hess Kasper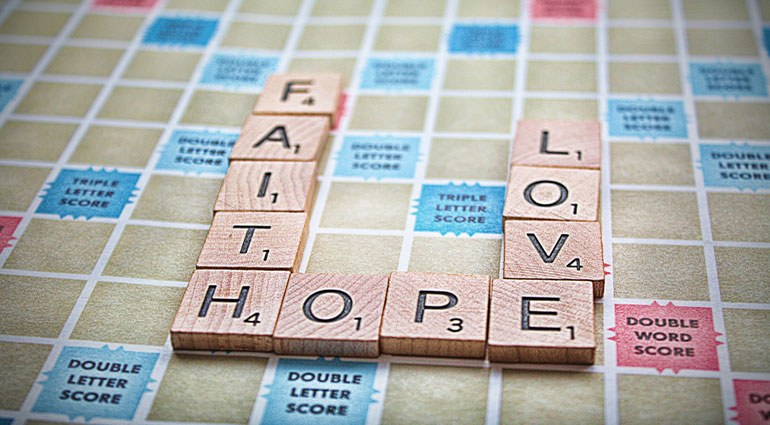 Read: 1 John 4:7-19
We love [God] because he first loved us. 1 John 4:19
One evening my friend showed me one of the three decorative plaques that would be part of a wall arrangement in her living room. "See, I've already got Love," she said, holding up the plaque with the word written on it. "Faith and Hope are on order."
So Love comes first, I thought. Faith and Hope soon follow!
Love did come first. In fact, it originated with God. First John 4:19 reminds us that "We love [God] because he first loved us." God's love, described in 1 Corinthians 13 (known as the "love chapter"), explains a characteristic of real love when it says, "Love never fails" (v. 8).
Faith and hope are essential to the believer. It is only because we are justified by faith that "we have peace with God through our Lord Jesus Christ" (Rom. 5:1). And hope is described in Hebrews 6 as "an anchor for the soul, firm and secure" (v. 19).
One day we will have no need of faith and hope. Faith will become sight and our hope will be realized when we see our Savior face to face. But love is eternal, for love is of God and God is love (1 John 4:7-8). "Now these three remain: faith, hope and love. But the greatest of these is love"—it's first and last (1 Cor. 13:13).
Thank You, Lord, for Your faithful love and for the love of family and friends. Please help me find ways to show Your love to others today.
We love because God first loved us.
Insight:
John's gospel carries the themes of light (1:5; 8:12) and truth (1:14; 18:38) throughout his record of Christ's earthly ministry. In 1 John, he revisits both of those themes (1:5-6). Today's reading focuses primarily on the character of God's great love. Bill Crowder
.......................................................................
1 John 4:7-19 King James Version (KJV)
7 Beloved, let us love one another: for love is of God; and every one that loveth is born of God, and knoweth God.
8 He that loveth not knoweth not God; for God is love.
9 In this was manifested the love of God toward us, because that God sent his only begotten Son into the world, that we might live through him.
10 Herein is love, not that we loved God, but that he loved us, and sent his Son to be the propitiation for our sins.
11 Beloved, if God so loved us, we ought also to love one another.
12 No man hath seen God at any time. If we love one another, God dwelleth in us, and his love is perfected in us.
13 Hereby know we that we dwell in him, and he in us, because he hath given us of his Spirit.
14 And we have seen and do testify that the Father sent the Son to be the Saviour of the world.
15 Whosoever shall confess that Jesus is the Son of God, God dwelleth in him, and he in God.
16 And we have known and believed the love that God hath to us. God is love; and he that dwelleth in love dwelleth in God, and God in him.
17 Herein is our love made perfect, that we may have boldness in the day of judgment: because as he is, so are we in this world.
18 There is no fear in love; but perfect love casteth out fear: because fear hath torment. He that feareth is not made perfect in love.
19 We love him, because he first loved us.