Desert Places By Julie Ackerman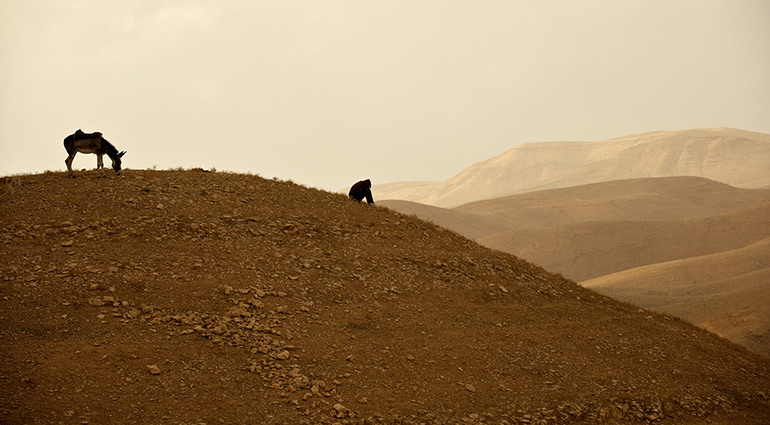 Read: Isaiah 48:16-22
They did not thirst when He led them through the deserts. —Isaiah 48:21
Dry. Dusty. Dangerous. A desert. A place where there is little water, a place hostile to life. It's not surprising, then, that the word deserted describes a place that is uninhabited. Life there is hard. Few people choose it. But sometimes we can't avoid it.
In Scripture, God's people were familiar with desert life. Much of the Middle East, including Israel, is desert. But there are lush exceptions, like the Jordan Valley and areas surrounding the Sea of Galilee. God chose to "raise His family" in a place surrounded by wilderness, a place where He could make His goodness known to His children as they trusted Him for protection and daily provision (Isa. 48:17-19).
Today, most of us don't live in literal deserts, but we often go through desert-like places. Sometimes we go as an act of obedience. Other times we find ourselves there through no conscious choice or action. When someone abandons us, or disease invades our bodies, we end up in desert-like circumstances where resources are scarce and life is hard to sustain.
But the point of going through a desert, whether literally or figuratively, is to remind us that we are dependent on God to sustain us—a lesson we need to remember even when we're living in a place of plenty.
Are you living in a place of plenty or of need? In what ways is God sustaining you?
In every desert, God has an oasis of grace.
Insight:
Easton's Bible Dictionary says of the prophet Isaiah: "He exercised the functions of his office during the reigns of Uzziah (or Azariah), Jotham, Ahaz, and Hezekiah. Uzziah reigned fifty-two years (810–759 bc) and Isaiah must have begun his career a few years before Uzziah's death. . . . He lived till the fourteenth year of Hezekiah, and in all likelihood outlived that monarch (who died [in] 698 bc) . . . . His first call to the prophetical office is not recorded. A second call came to him 'in the year that King Uzziah died' (Isa. 67:1). He exercised his ministry in a spirit of uncompromising firmness and boldness."
..........................................................................
Isaiah 48:16-22 King James Version (KJV)
16 Come ye near unto me, hear ye this; I have not spoken in secret from the beginning; from the time that it was, there am I: and now the Lord God, and his Spirit, hath sent me.
17 Thus saith the Lord, thy Redeemer, the Holy One of Israel; I am the Lord thy God which teacheth thee to profit, which leadeth thee by the way that thou shouldest go.
18 O that thou hadst hearkened to my commandments! then had thy peace been as a river, and thy righteousness as the waves of the sea:
19 Thy seed also had been as the sand, and the offspring of thy bowels like the gravel thereof; his name should not have been cut off nor destroyed from before me.
20 Go ye forth of Babylon, flee ye from the Chaldeans, with a voice of singing declare ye, tell this, utter it even to the end of the earth; say ye, The Lord hath redeemed his servant Jacob.
21 And they thirsted not when he led them through the deserts: he caused the waters to flow out of the rock for them: he clave the rock also, and the waters gushed out.
22 There is no peace, saith the Lord, unto the wicked.