Pass It On By Lawrence Darmani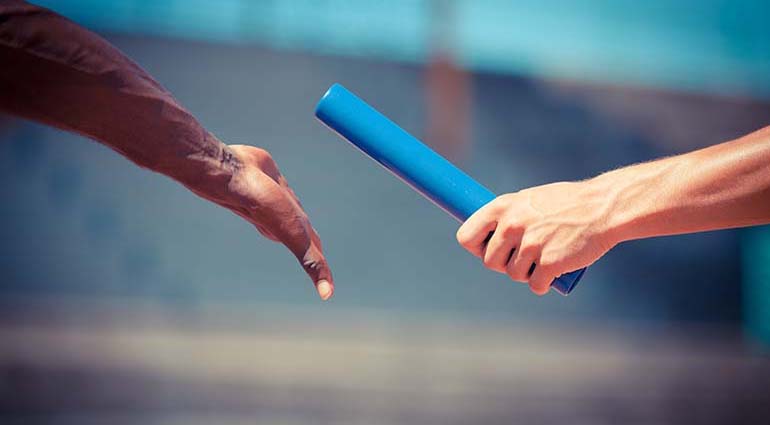 Read: Psalm 78:1–8
We will tell the next generation the praiseworthy deeds of the Lord. Psalm 78:4
I enjoy watching relay races. The physical strength, speed, skill, and endurance required of the athletes amaze me. But one crucial point of the race always gets my special attention and makes me anxious. It is the moment the baton is passed to the next athlete. One moment of delay, one slip, and the race could be lost.
In a sense, Christians are in a relay race, carrying the baton of faith and the knowledge of the Lord and of His Word. And the Bible tells us about our need to pass this baton from one generation to another. In Psalm 78, Asaph declares: "I will utter . . . things from of old—things we have heard and known, things our ancestors have told us . . . . We will tell the next generation the praiseworthy deeds of the Lord, his power, and the wonders he has done" (vv. 2–4).
Moses said something similar to the Israelites: "Do not forget the things your eyes have seen or let them fade from your heart as long as you live. Teach them to your children and to their children after them" (Deut. 4:9).
For generations to come, we are called to lovingly and courageously do whatever we can to pass along "the praises of him who called [us] out of darkness into his wonderful light" (1 Peter 2:9).
Father, help me to be faithful in passing my faith along to someone else.
Share with us at odb.org/story the ways you are passing along your faith to the next generation.
We influence future generations by living for Christ today.
INSIGHT:
It is interesting that Psalm 78:2 makes reference to speaking in parables. Jesus quotes this verse in Matthew 13:35. Jesus is the Master Teacher, and His primary teaching tool was the parable. A parable has been called "an earthly story with a heavenly meaning." Each story conveys an insight into God and the human condition. Yet in a very mysterious way, Jesus used parables to confound the wise. In Mark, Christ quoted Isaiah regarding the lack of spiritual understanding of those who have hardened hearts. He said he spoke in parables so that "they may be ever seeing but never perceiving, and ever hearing but never understanding; otherwise they might turn and be forgiven!" (4:12).
.....................................
Psalm 78:1-8 King James Version (KJV)
78 Give ear, O my people, to my law: incline your ears to the words of my mouth.
2 I will open my mouth in a parable: I will utter dark sayings of old:
3 Which we have heard and known, and our fathers have told us.
4 We will not hide them from their children, shewing to the generation to come the praises of the Lord, and his strength, and his wonderful works that he hath done.
5 For he established a testimony in Jacob, and appointed a law in Israel, which he commanded our fathers, that they should make them known to their children:
6 That the generation to come might know them, even the children which should be born; who should arise and declare them to their children:
7 That they might set their hope in God, and not forget the works of God, but keep his commandments:
8 And might not be as their fathers, a stubborn and rebellious generation; a generation that set not their heart aright, and whose spirit was not stedfast with God.