The Survival Float By Jennifer Benson Schuldt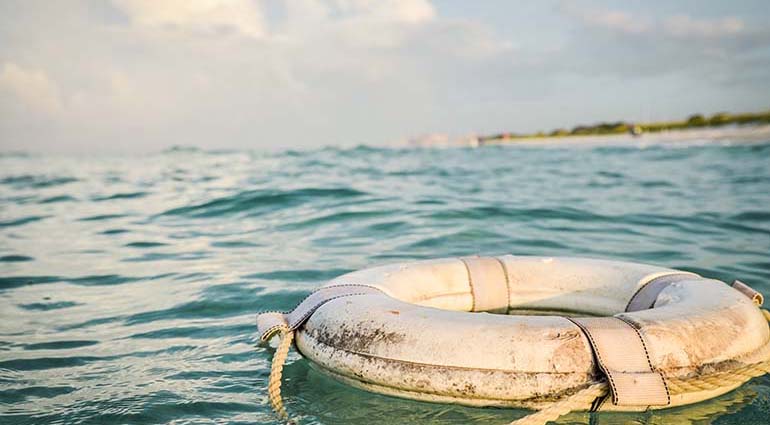 Read: Psalm 55:4–23
Cast your cares on the Lord and he will sustain you. Psalm 55:22
Sunlight glittered on the swimming pool in front of me. I overheard an instructor speaking to a student who had been in the water for quite a while. He said, "It looks like you're getting tired. When you're exhausted and in deep water, try the survival float."
Certain situations in life require us to spend our mental, physical, or emotional energy in a way that we can't sustain. David described a time when his enemies were threatening him and he felt the emotional weight of their anger. He needed to escape the distress he was experiencing.
As he processed his feelings, he found a way to rest in his troubled thoughts. He said, "Cast your cares on the Lord and he will sustain you" (Ps. 55:22). He recognized that God supports us if we dare to release our problems to Him. We don't have to take charge of every situation and try to craft the outcome—that's exhausting! God is in control of every aspect of our life.
Instead of trying to do everything in our own effort, we can find rest in God. Sometimes it's as simple as asking Him to handle our problems. Then we can pause, relax, and enjoy the knowledge that He is sustaining us.
God, today I give my problems to You. I know that You are in control of everything and I believe You are willing to help me. Please help me to find peace in You.
How do you find your rest? Share with us at odb.org.
God is a safe resting place.
INSIGHT:
In today's reading David lamented over the activities of the wicked against him and denounced those who accused him (Ps. 55:1–15). Especially troubling was the betrayal of a former friend. Yet David had confidence in God. His goodness and ability to deliver pulled David into a spirit of praise (vv. 16–23).
.................................................
Psalm 55:4-23 King James Version (KJV)
4 My heart is sore pained within me: and the terrors of death are fallen upon me.
5 Fearfulness and trembling are come upon me, and horror hath overwhelmed me.
6 And I said, Oh that I had wings like a dove! for then would I fly away, and be at rest.
7 Lo, then would I wander far off, and remain in the wilderness. Selah.
8 I would hasten my escape from the windy storm and tempest.
9 Destroy, O Lord, and divide their tongues: for I have seen violence and strife in the city.
10 Day and night they go about it upon the walls thereof: mischief also and sorrow are in the midst of it.
11 Wickedness is in the midst thereof: deceit and guile depart not from her streets.
12 For it was not an enemy that reproached me; then I could have borne it: neither was it he that hated me that did magnify himself against me; then I would have hid myself from him:
13 But it was thou, a man mine equal, my guide, and mine acquaintance.
14 We took sweet counsel together, and walked unto the house of God in company.
15 Let death seize upon them, and let them go down quick into hell: for wickedness is in their dwellings, and among them.
16 As for me, I will call upon God; and the Lord shall save me.
17 Evening, and morning, and at noon, will I pray, and cry aloud: and he shall hear my voice.
18 He hath delivered my soul in peace from the battle that was against me: for there were many with me.
19 God shall hear, and afflict them, even he that abideth of old. Selah. Because they have no changes, therefore they fear not God.
20 He hath put forth his hands against such as be at peace with him: he hath broken his covenant.
21 The words of his mouth were smoother than butter, but war was in his heart: his words were softer than oil, yet were they drawn swords.
22 Cast thy burden upon the Lord, and he shall sustain thee: he shall never suffer the righteous to be moved.
23 But thou, O God, shalt bring them down into the pit of destruction: bloody and deceitful men shall not live out half their days; but I will trust in thee.