Praise from Pure Hearts By Jennifer Benson Schuldt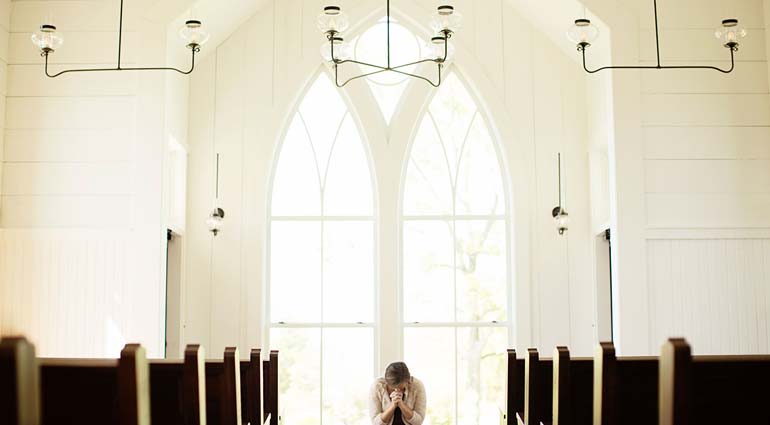 Read: Psalm 51:7-17
A broken and contrite heart you, God, will not despise. Psalm 51:17
During my friend Myrna's travels to another country, she visited a church for worship. She noticed that as people entered the sanctuary they immediately knelt and prayed, facing away from the front of the church. My friend learned that people in that church confessed their sin to God before they began the worship service.
This act of humility is a picture to me of what David said in Psalm 51: "My sacrifice, O God, is a broken spirit; a broken and contrite heart you, God, will not despise" (v. 17). David was describing his own remorse and repentance for his sin of adultery with Bathsheba. Real sorrow for sin involves adopting God's view of what we've done—seeing it as clearly wrong, disliking it, and not wanting it to continue.
When we are truly broken over our sin, God lovingly puts us back together. "If we confess our sins, he is faithful and just and will forgive us our sins and purify us from all unrighteousness" (1 John 1:9). This forgiveness produces a fresh sense of openness with Him and is the ideal starting point for praise. After David repented, confessed, and was forgiven by God, he responded by saying, "Open my lips, Lord, and my mouth will declare your praise" (Ps. 51:15).
Humility is the right response to God's holiness. And praise is our heart's response to His forgiveness.
Dear God, help me never to excuse or minimize my sin. Please meet me in my brokenness, and let nothing hold me back from praising Your name.
Praise is the song of a soul set free.
INSIGHT:
In today's reading, the psalmist cries, "Cleanse me with hyssop, and I will be clean" (Ps. 51:7). Hyssop was a wild shrub used in several significant purification rites. On the night of the Passover, the Lord commanded the Israelites to use a hyssop branch to spread the blood of the lamb on the doorpost and lintel of their homes (Ex. 12:22). If a leper had been healed of leprosy, the priests were to use hyssop to sprinkle a mixture of blood and water onto the person as a sign of healing (Lev. 14:1–9). And on the day of the ultimate purification, a hyssop branch hoisted the sponge filled with sour wine to the lips of Jesus (John 19:28–30).
..............................................
Psalm 51:7-17 King James Version (KJV)
7 Purge me with hyssop, and I shall be clean: wash me, and I shall be whiter than snow.
8 Make me to hear joy and gladness; that the bones which thou hast broken may rejoice.
9 Hide thy face from my sins, and blot out all mine iniquities.
10 Create in me a clean heart, O God; and renew a right spirit within me.
11 Cast me not away from thy presence; and take not thy holy spirit from me.
12 Restore unto me the joy of thy salvation; and uphold me with thy free spirit.
13 Then will I teach transgressors thy ways; and sinners shall be converted unto thee.
14 Deliver me from bloodguiltiness, O God, thou God of my salvation: and my tongue shall sing aloud of thy righteousness.
15 O Lord, open thou my lips; and my mouth shall shew forth thy praise.
16 For thou desirest not sacrifice; else would I give it: thou delightest not in burnt offering.
17 The sacrifices of God are a broken spirit: a broken and a contrite heart, O God, thou wilt not despise.