God's Dwelling Place By Bill Crowder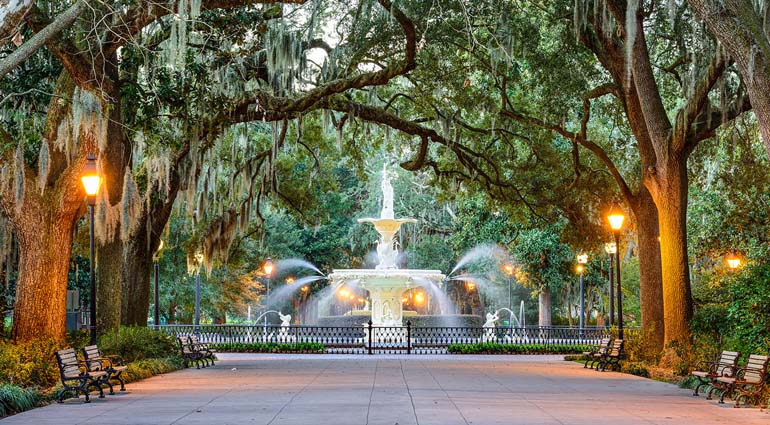 Read: Revelation 21:1-7
There will be no more death or mourning or crying or pain. Revelation 21:4
James Oglethorpe (1696–1785) was a British general and member of Parliament who had a vision for a great city. Charged with settling the state of Georgia in North America, he planned the city of Savannah according to that vision. He designed a series of squares, each having a green space and designated areas for churches and shops, with the rest reserved for housing. The visionary thinking of Oglethorpe is seen today in a beautiful, well-organized city that is considered a jewel of the American South.
In Revelation 21, John received a vision of a different city—the New Jerusalem. What he said of this city was less about its design and more about the character of who was there. When John described our eternal home, he wrote, "I heard a loud voice from the throne saying, 'Look! God's dwelling place is now among the people, and he will dwell with them'" (v. 3). And because of who was there—God Himself—this dwelling place would be notable for what was not there. Quoting from Isaiah 25:8, John wrote, "He will wipe every tear from their eyes. There will be no more death" (v. 4).
No more death! Nor will there be any more "mourning or crying or pain." All our sorrow will be replaced by the wonderful, healing presence of the God of the universe. This is the home Jesus is preparing for all who turn to Him for forgiveness.
Thank You, Father, that Your Son is preparing a place for us to live with You. Thank You that it will be more than just a wonderful place. It is where we will live with You and know You forever.
While You prepare a place for us, Lord, prepare us for that place.
INSIGHT:
As the Godhead is clearly seen at the creation (Gen. 1:1–2; John 1:1–5), the triune God is likewise present in the re-creation of all things. All members of the Trinity appear in this re-creation text (Rev. 21). In verse 4, God Himself wipes away our tears. In verse 9, Christ the Lamb is pictured. In verse 10, John is carried away by the Spirit.
................................................
Revelation 21:1-7 King James Version (KJV)
21 And I saw a new heaven and a new earth: for the first heaven and the first earth were passed away; and there was no more sea.
2 And I John saw the holy city, new Jerusalem, coming down from God out of heaven, prepared as a bride adorned for her husband.
3 And I heard a great voice out of heaven saying, Behold, the tabernacle of God is with men, and he will dwell with them, and they shall be his people, and God himself shall be with them, and be their God.
4 And God shall wipe away all tears from their eyes; and there shall be no more death, neither sorrow, nor crying, neither shall there be any more pain: for the former things are passed away.
5 And he that sat upon the throne said, Behold, I make all things new. And he said unto me, Write: for these words are true and faithful.
6 And he said unto me, It is done. I am Alpha and Omega, the beginning and the end. I will give unto him that is athirst of the fountain of the water of life freely.
7 He that overcometh shall inherit all things; and I will be his God, and he shall be my son.