Keep Climbing! By Marvin Williams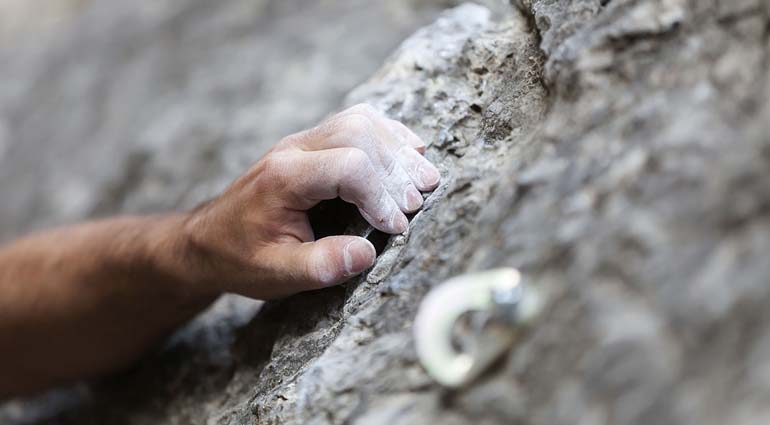 Read: 1 Thessalonians 4:1-12
Encourage one another daily. Hebrews 3:13
Richard needed a push, and he got one. He was rock climbing with his friend Kevin who was the belayer (the one who secures the rope). Exhausted and ready to quit, Richard asked Kevin to lower him to the ground. But Kevin urged him on, saying he had come too far to quit. Dangling in midair, Richard decided to keep trying. Amazingly, he was able to reconnect with the rock and complete the climb because of his friend's encouragement.
In the early church, followers of Jesus encouraged one another to continue to follow their Lord and to show compassion. In a culture riddled with immorality, they passionately appealed to one another to live pure lives (Rom. 12:1; 1 Thess. 4:1). Believers encouraged one another daily, as God prompted them to do so (Acts 13:15). They urged each other to intercede for the body (Rom. 15:30), to help people stay connected to the church (Heb. 10:25), and to love more and more (1 Thess. 4:10).
Through His death and resurrection, Jesus has connected us to one another. Therefore, we have the responsibility and privilege with God's enablement to encourage fellow believers to finish the climb of trusting and obeying Him.
When was the last time you needed to urge someone to keep following Jesus? Who has encouraged you or stirred you to pursue holiness, to keep praying, or to enlarge your love for Jesus and others?
Share with us at Facebook.com/ourdailybread
Encourage one another and build each other up. 1 Thessalonians 5:11
INSIGHT:
Paul commended the Thessalonian Christians for being "a model to all the believers in Macedonia and Achaia" (1 Thess. 1:7). In today's reading, Paul urges them to continue to live lives that "please God" (4:1). As believers, our desire should be to "live a life worthy of the Lord and please him in every way" (Col. 1:10).
..........................................
1 Thessalonians 4:1-12 King James Version (KJV)
4 Furthermore then we beseech you, brethren, and exhort you by the Lord Jesus, that as ye have received of us how ye ought to walk and to please God, so ye would abound more and more.
2 For ye know what commandments we gave you by the Lord Jesus.
3 For this is the will of God, even your sanctification, that ye should abstain from fornication:
4 That every one of you should know how to possess his vessel in sanctification and honour;
5 Not in the lust of concupiscence, even as the Gentiles which know not God:
6 That no man go beyond and defraud his brother in any matter: because that the Lord is the avenger of all such, as we also have forewarned you and testified.
7 For God hath not called us unto uncleanness, but unto holiness.
8 He therefore that despiseth, despiseth not man, but God, who hath also given unto us his holy Spirit.
9 But as touching brotherly love ye need not that I write unto you: for ye yourselves are taught of God to love one another.
10 And indeed ye do it toward all the brethren which are in all Macedonia: but we beseech you, brethren, that ye increase more and more;
11 And that ye study to be quiet, and to do your own business, and to work with your own hands, as we commanded you;
12 That ye may walk honestly toward them that are without, and that ye may have lack of nothing.