Great Sacrifice By Bill Crowder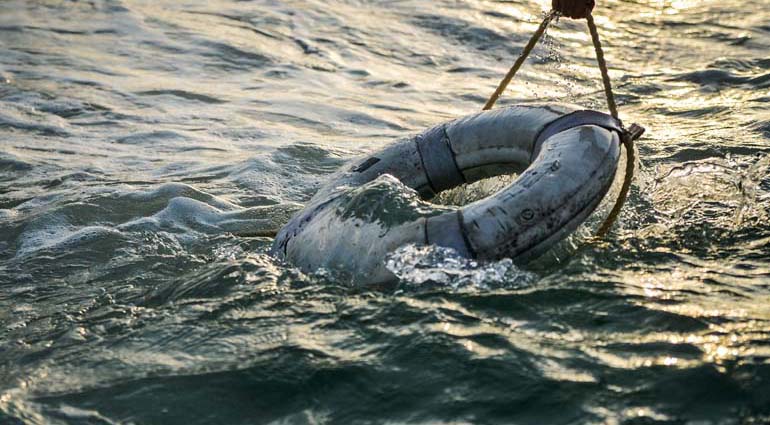 Read: Hebrews 10:5-18
The Lord Jesus Christ . . . gave himself for our sins to rescue us. Galatians 1:3-4
W. T. Stead, an innovative English journalist at the turn of the 20th century, was known for writing about controversial social issues. Two of the articles he published addressed the danger of ships operating with an insufficient ratio of lifeboats to passengers. Ironically, Stead was aboard the Titanic when it struck an iceberg in the North Atlantic on April 15, 1912. According to one report, after helping women and children into lifeboats, Stead sacrificed his own life by giving up his life vest and a place in the lifeboats so others could be rescued.
There is something very stirring about self-sacrifice. No greater example of that can be found than in Christ Himself. The writer of Hebrews says, "This Man, after He had offered one sacrifice for sins forever, sat down at the right hand of God . . . . For by one offering He has perfected forever those who are being sanctified" (Heb. 10:12,14 nkjv). In his letter to the Galatians, Paul opened with words describing this great sacrifice: "The Lord Jesus Christ . . . gave himself for our sins to rescue us from the present evil age" (Gal. 1:3-4).
Jesus' offering of Himself on our behalf is the measure of His love for us. That willing sacrifice continues to rescue men and women and offer assurance of eternity with Him.
God of love and grace, words can never capture the wonder of the sacrifice that Christ offered on our behalf. May our love respond to You with faith and worship—for Your Son who was slain is worthy of our praise.
Read more about the sacrifice of Jesus in the Discovery Series booklet The Power of the Cross.
Jesus laid down His life to show His love for us.
INSIGHT:
Hebrews 10:5–7 is a quotation from the Septuagint, the Greek translation of the Hebrew Old Testament. This third-century bc translation was used by many Jews in the first century ad. About 90 percent of the Old Testament quotations in the New Testament are from the Septuagint. Dennis Moles
........................................................
Hebrews 10:5-18 King James Version (KJV)
5 Wherefore when he cometh into the world, he saith, Sacrifice and offering thou wouldest not, but a body hast thou prepared me:
6 In burnt offerings and sacrifices for sin thou hast had no pleasure.
7 Then said I, Lo, I come (in the volume of the book it is written of me,) to do thy will, O God.
8 Above when he said, Sacrifice and offering and burnt offerings and offering for sin thou wouldest not, neither hadst pleasure therein; which are offered by the law;
9 Then said he, Lo, I come to do thy will, O God. He taketh away the first, that he may establish the second.
10 By the which will we are sanctified through the offering of the body of Jesus Christ once for all.
11 And every priest standeth daily ministering and offering oftentimes the same sacrifices, which can never take away sins:
12 But this man, after he had offered one sacrifice for sins for ever, sat down on the right hand of God;
13 From henceforth expecting till his enemies be made his footstool.
14 For by one offering he hath perfected for ever them that are sanctified.
15 Whereof the Holy Ghost also is a witness to us: for after that he had said before,
16 This is the covenant that I will make with them after those days, saith the Lord, I will put my laws into their hearts, and in their minds will I write them;
17 And their sins and iniquities will I remember no more.
18 Now where remission of these is, there is no more offering for sin.