Too Close By David McCasland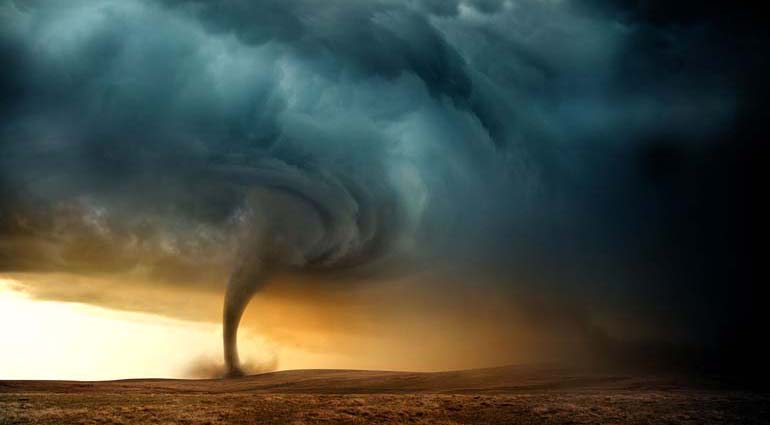 Read: Proverbs 3:1-18
In all your ways submit to him, and he will make your paths straight. Proverbs 3:6
I grew up in Oklahoma where severe weather is common from early spring through the end of summer. I recall one evening when the sky boiled with dark clouds, the TV weather forecaster warned of an approaching tornado, and the electricity went out. Very quickly, my parents, my sister, and I climbed down the wooden ladder into the storm cellar behind our house where we stayed until the storm passed by.
Today "storm chasing" has become a hobby for many people and a profitable business for others. The goal is to get as close as possible to a tornado without being harmed. Many storm chasers are skilled forecasters with accurate information, but I won't sign up for a tornado tour anytime soon.
In moral and spiritual areas of my life, however, I can foolishly pursue dangerous things God tells me to avoid because of His love for me, all the time believing I won't be harmed. A wiser approach is to read the book of Proverbs, which contains many positive ways to elude these snares of life.
"Trust in the Lord with all your heart and lean not on your own understanding," Solomon wrote. "In all your ways submit to him, and he will make your paths straight" (Prov. 3:5-6).
Our Lord is the master of the adventure of living, and following His wisdom leads us to fullness of life.
Father, Your wisdom leads us along the path of life. Help us to follow Your guidance today.
How can you trust the Lord today?
Share with us at odb.org
Every temptation is an occasion to trust God.
INSIGHT:
The Hebrew word translated "teaching" in Proverbs 3:1 is torah. Torah is most often translated "law" in the Old Testament, but it can also be translated "instruction" or "guidance." The father in Proverbs 3 is not just advising his son to obey rules. He is urging him to internalize loving and helpful instructions: "Do not forget my teaching [instruction, guidance], but keep my commands in your heart." Dennis Moles
................................................
Proverbs 3:1-18 King James Version (KJV)
3 My son, forget not my law; but let thine heart keep my commandments:
2 For length of days, and long life, and peace, shall they add to thee.
3 Let not mercy and truth forsake thee: bind them about thy neck; write them upon the table of thine heart:
4 So shalt thou find favour and good understanding in the sight of God and man.
5 Trust in the Lord with all thine heart; and lean not unto thine own understanding.
6 In all thy ways acknowledge him, and he shall direct thy paths.
7 Be not wise in thine own eyes: fear the Lord, and depart from evil.
8 It shall be health to thy navel, and marrow to thy bones.
9 Honour the Lord with thy substance, and with the firstfruits of all thine increase:
10 So shall thy barns be filled with plenty, and thy presses shall burst out with new wine.
11 My son, despise not the chastening of the Lord; neither be weary of his correction:
12 For whom the Lord loveth he correcteth; even as a father the son in whom he delighteth.
13 Happy is the man that findeth wisdom, and the man that getteth understanding.
14 For the merchandise of it is better than the merchandise of silver, and the gain thereof than fine gold.
15 She is more precious than rubies: and all the things thou canst desire are not to be compared unto her.
16 Length of days is in her right hand; and in her left hand riches and honour.
17 Her ways are ways of pleasantness, and all her paths are peace.
18 She is a tree of life to them that lay hold upon her: and happy is every one that retaineth her.