Don't Quit! By Dennis Fisher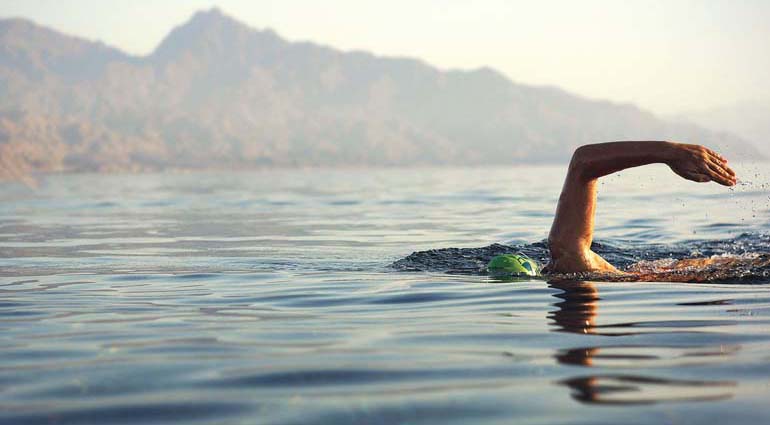 Read: Hebrews 12:1-11
Let us run with perseverance the race marked out for us, fixing our eyes on Jesus, the pioneer and perfecter of faith.
Hebrews 12:1-2
In 1952 Florence Chadwick attempted to swim 26 miles from the coast of California to Catalina Island. After 15 hours, a heavy fog began to block her view, she became disoriented, and she gave up. To her chagrin, Chadwick learned that she had quit just 1 mile short of her destination.
Two months later Chadwick tried a second time to swim to Catalina Island from the coast. Again a thick fog settled in, but this time she reached her destination, becoming the first woman to swim the Catalina Channel. Chadwick said she kept an image of the shoreline in her mind even when she couldn't see it.
When the problems of life cloud our vision, we have an opportunity to learn to see our goal with the eyes of faith. The New Testament letter to the Hebrews urges us to "run with perseverance the race marked out for us, fixing our eyes on Jesus, the pioneer and perfecter of faith" (12:1-2). When we feel like quitting, this is our signal to remember not only what Jesus suffered for us but what He now helps us to endure—until the day we see Him face to face.
Dear Father, sometimes the challenges of life seem insurmountable. Help me to fix my eyes on You and trust You. I'm thankful You are bringing about Your good purposes in me.
We can finish strong when we focus on Christ.
INSIGHT:
Using the metaphor of a marathon and a stadium of cheering supporters, the writer of Hebrews encouraged persecuted Christians to persevere and to remain faithful. The constant call of Scripture is: Don't give up! Keep your eye on the finish line! Finish the race! (1 Cor. 9:24–27; Phil. 3:13–14; 2 Tim. 4:7; Heb. 12:1–2).
....................
Hebrews 12:1-11 King James Version (KJV)
12 Wherefore seeing we also are compassed about with so great a cloud of witnesses, let us lay aside every weight, and the sin which doth so easily beset us, and let us run with patience the race that is set before us,
2 Looking unto Jesus the author and finisher of our faith; who for the joy that was set before him endured the cross, despising the shame, and is set down at the right hand of the throne of God.
3 For consider him that endured such contradiction of sinners against himself, lest ye be wearied and faint in your minds.
4 Ye have not yet resisted unto blood, striving against sin.
5 And ye have forgotten the exhortation which speaketh unto you as unto children, My son, despise not thou the chastening of the Lord, nor faint when thou art rebuked of him:
6 For whom the Lord loveth he chasteneth, and scourgeth every son whom he receiveth.
7 If ye endure chastening, God dealeth with you as with sons; for what son is he whom the father chasteneth not?
8 But if ye be without chastisement, whereof all are partakers, then are ye bastards, and not sons.
9 Furthermore we have had fathers of our flesh which corrected us, and we gave them reverence: shall we not much rather be in subjection unto the Father of spirits, and live?
10 For they verily for a few days chastened us after their own pleasure; but he for our profit, that we might be partakers of his holiness.
11 Now no chastening for the present seemeth to be joyous, but grievous: nevertheless afterward it yieldeth the peaceable fruit of righteousness unto them which are exercised thereby.