With Us and in Us By Keila Ochoa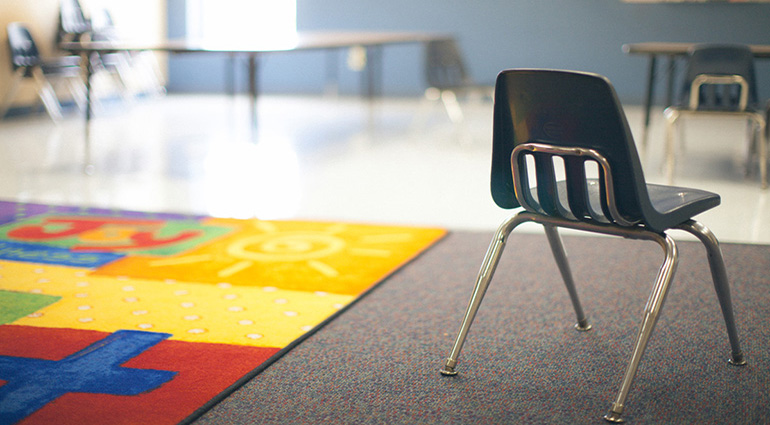 Read: John 14:15-21
I will ask the Father, and he will give you another advocate to help you and be with you forever.
John 14:16
My son had just started nursery school. The first day he cried and declared, "I don't like school." My husband and I talked to him about it. "We may not be physically there, but we are praying for you. Besides, Jesus is with you always."
"But I can't see Him!" he reasoned. My husband hugged him and said, "He lives in you. And He won't leave you alone." My son touched his heart and said, "Yes, Jesus lives in me."
Kids are not the only ones who suffer from separation anxiety. In every stage of life we face times of separation from those we love, sometimes because of geographical distance and sometimes because of death. However, we need to remember that even if we feel forsaken by others, God hasn't forsaken us. He has promised to be with us always. God sent the Spirit of truth—our Advocate and Helper—to dwell with us and in us forever (John 14:15-18). We are His beloved children.
My son is learning to trust, but so am I. Like my son, I can't see the Spirit, but I feel His power as each day He encourages me and guides me as I read God's Word. Let us thank God for His wonderful provision, the Spirit of Christ who is with us and in us. We are certainly not alone!
Lord, thank You for Your Holy Spirit who lives in me.
We are never alone.
Insight:
In today's passage Jesus describes the promised Spirit as an advocate (v. 15). The original Greek word is paraklete, which literally means "someone called alongside to help." Some translations render the word as counselor or comforter. While those terms convey some of the meaning, advocate adds a different layer to the definition because paraklete was also used to describe someone who served as legal counsel or as a defense attorney. Our Helper—the Spirit of God—was sent by Jesus to help us in our time of need.
......................................................
John 14:15-21 King James Version (KJV)
15 If ye love me, keep my commandments.
16 And I will pray the Father, and he shall give you another Comforter, that he may abide with you for ever;
17 Even the Spirit of truth; whom the world cannot receive, because it seeth him not, neither knoweth him: but ye know him; for he dwelleth with you, and shall be in you.
18 I will not leave you comfortless: I will come to you.
19 Yet a little while, and the world seeth me no more; but ye see me: because I live, ye shall live also.
20 At that day ye shall know that I am in my Father, and ye in me, and I in you.
21 He that hath my commandments, and keepeth them, he it is that loveth me: and he that loveth me shall be loved of my Father, and I will love him, and will manifest myself to him.